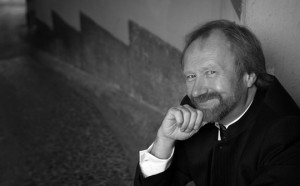 Markku Kivinen (b. 1951 in Helsinki) initially made his name as an expert in sociological issues relating to Russia. His debut novel, Betonijumalia ('Concrete Gods'), published in 2009, proved that he is also a talented writer of fiction.
Betonijumalia is set in a semi-urban concrete high-rise district in the 1970s. Still celebrated as an architectural vision of a new, forward-looking mode of living in those days, the suburb symbolises Finland's shift towards modernism. In the form of diary entries, the book's five very different protagonists – four adolescent boys and a Religious Studies teacher who doubts her faith – record their lives, their hopes and their disappointments. The result is a portrait of an entire generation.
Since 1996 Markku Kivinen has been the director of the Aleksanteri Institute at the University of Helsinki, which specialises in sociological and cultural studies of Eastern Europe. He has published over 300 scholarly papers. His main research interests as a macrosociologist are in the areas of power, social classes and cultural structures. In 2009 he was made a member of the Order of the White Rose of Finland in 2009, the highest distinction awarded by the Republic of Finland, for his intellectual achievements.
German translations:
Betongötter, Secession Verlag 2014, Übersetzung: Rosalinde Sartorti
Photo: © Heini Lehväslaiho
Events