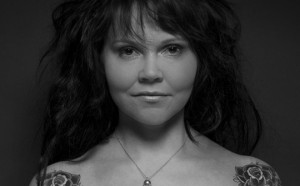 Katja Kettu (b. 1978 in Rovaniemi) achieved a major breakthrough with her third book, Kätilö ('The Midwife'), which followed her novels Surujenkerääjä ('The Sorrow Collector') and Hitsaaja ('The Welder'). At the centre of Kätilö is a love story between a Finnish midwife and German army officer during the Lapland War (1944–45). It won two major Finnish literary awards and was widely praised by critics and readers alike. Kettu's lyrical prose features many northern Finnish dialectal terms and neologisms. Her writing plays with the duality of beauty and ugliness, with hints of 'Northern grotesque' and magic realism.
Besides being an author, Katja Kettu is also a director of animated films and music videos. She is also the singer in a punk band and often comments in the media on political subjects, particularly feminism. She hails from Finnish Lapland and spent some time living in Tallinn and London before settling in Helsinki.
German translations:
Wildauge, Galiani Verlag 2014, Übersetzung: Angela Plöger.
Photo: © Ofer Amir

Events