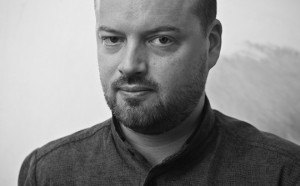 Ville Tietäväinen (b. 1970 in Helsinki) creates painstakingly researched, impeccably illustrated graphic novels. His stories are set in far-flung places like Hong Kong in the 1990s or the greenhouse estates in the Spanish region of Almeria. Tietäväinen is one of Finland's most important contemporary comic artists.
In 2011 Tietäväinen's third graphic novel, Näkymättömät kädet ('Invisible Hands'), was published in Finland. In this work of social criticism, he tells the story of Rashid, a tailor from Morocco who makes his way to Europe in order to build a better life for himself and his family. Tietäväinen addresses the living conditions of many illegal immigrants and guest workers in Europe who are forced to struggle with low pay and poor working conditions. This book was awarded the 2012 Comics Finlandia prize.
In 2013 Ville Tietäväinen and his daughter Aino collaborated to produce Vain pahaa unta ('Just a Bad Dream'), a graphic work in which a child's nightmares are illustrated. They received the Tulenkantaja ('Torch Bearers') prize for this work.
Ville Tietäväinen studied architecture but began working as an illustrator and graphic designer when he was still at university and set up his own design agency in 1995. He lives in Helsinki.
German translations:
Unsichtbare Hände, Avant Verlag 2014, Übersetzung: Alexandra Stang.
Photo: © Pertti Nisonen

Events