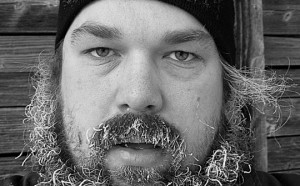 Petteri Tikkanen (b. 1975 in Iisalmi) uses strong, graphic lines to draw hilarious yet moving comics that view the world from a child's perspective. His works provide a universal portrayal of the transition from childhood into adolescence. The storyline is propelled chiefly via the expressive drawings, while the dialogue is kept brief and simple.
In addition to his comics, Tikkanen does illustrations for magazines and designs album covers. He occasionally dresses up in black tights, plays guitar and sings as his alter ego, the 'superhero and pro wrestler' Black Peider.
Tikkanen studied at the University of Industrial Art Helsinki and graduated with a master's degree. He is a two-time winner (1997 and 1998) of the comics competition at the Kemi Arctic Comics Festival, and in 2010 he was awarded the Comics Finlandia prize for his book Eero. He teaches drawing and illustration at various art schools.
German translations:
Blitzkrieg der Liebe, avant Verlag (erscheint am 1. Oktober 2014), Übersetzung: Elina Kritzokat.
Photo: © Like

Events