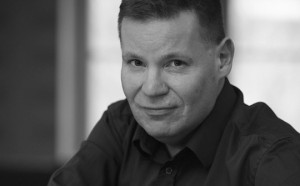 The Studio series of crime novels by Pekka Hiltunen (b. 1966 in Oulu) features two young Finnish women who solve crimes in London. One of them is a graphic designer, while the other is a psychologist who possesses an unusual talent: she can 'read' people. These two women are part of the Studio team, an underground organisation that thwarts human traffickers, murderers and power-hungry politicians.
Hiltunen's debut book, Vilpittömästi sinun (published in English as Cold Courage), was awarded the Johtolanka prize, Finland's most prestigious award for crime writing. The second volume in the Studio series, Sysipimeä (English version: Black Noise) was a critical and commercial success. Translation rights have already been sold to six territories.
Pekka Hiltunen is a respected journalist, and in addition to his crime fiction he has written another novel entitled Iso ('Big'). That novel is about an overweight woman's struggle against prejudice and oppression. Hiltunen currently works as the managing editor of Mondo, a travel magazine, which has meant his books have largely been written in hotel rooms all over the world.
German translations:
Das schwarze Rauschen, Berlin Verlag (erscheint am 14. Juli 2014), Übersetzung: Gabriele Schrey-Vasara
Die Frau Ohne Gesicht, Berlin Verlag 2013, Übersetzung: Gabriele Schrey-Vasara
Photo: © Pertti Nisonen
Events