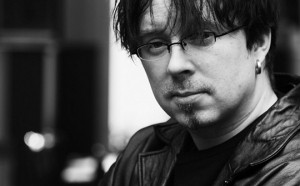 Many of the novels and stories by Pasi Ilmari Jääskeläinen (b. 1966 in Jyväskylä) are set in supposedly quiet Finnish towns where terrible things happen: a well-known author of children's books vanishes; ghosts haunt a garden. He has invented his own term for the genre of his fantasy-filled tales: realist fantasy.
His first novel, Lumikko ja yhdeksän muuta (published in English translation as The Rabbit Back Literature Society) is a magical, surprising and idiosyncratic book for and about book lovers. He was awarded the Kuvastaja Prize for the best Finnish fantasy novel for both his first book and his second, entitled Harjukaupungin salakäytävät ('The Cinematic Life').
Jääskeläinen teaches Finnish and literature at a secondary school in Jyväskylä and has published three novels and a collection of short stories. His short stories have been awarded the Atorox Prize for science fiction and fantasy a total of four times.
German translations:
Lauras Verschwinden im Schnee, Aufbau Verlag  2014, Übersetzung: Angela Plöger.
Photo: © Tommi Anttonen
Events