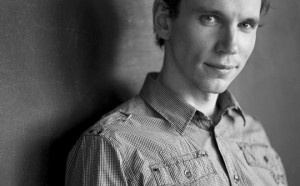 Juha Itkonen (b. 1975 in Hämeenlinna) is one of the leading names among the new generation of Finnish writers. His novels are often marked by a slightly melancholy, bittersweet tone. His characters are well-rounded personalities; the settings are believable and meticulously researched, no matter whether the book in question features Mormon missionaries, global rock stars or Finnish small-town teens.
His latest novel, Hetken hohtava valo ('A Briefly Dazzling Light') was published in Finnish in 2012. It is a family saga spanning five decades and three generations, from the 1950s into the early 21st century. Esa, the narrator, attempts to explain himself and the dynamics within the family to his daughter. With his sensitive descriptions of individuals, their relationships and metamorphoses, Juha Itkonen creates points of identification for readers while also building up a portrait of an era.
Itkonen has been awarded numerous prizes for his awards, including the Kalevi Jäntti Prize for his debut work, Myöhempien aikojen pyhiä ('Latter-Day Saints'). Besides novels for adults, he has collaborated with his wife Maija Itkonen on a children's book. Before becoming a full-time writer, he studied political science at the University of Helsinki and worked as a journalist. Juha Itkonen lives with his family in Helsinki.
German translations:
Ein flüchtiges Leuchten, Droemer Knaur (erscheint am 1. Oktober 2014), Übersetzung: Stefan Moster.
Photo: © Jouni Harala
Events