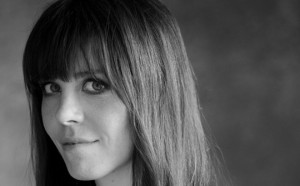 Riikka Pulkkinen (b. 1980 in Tampere) is one of the most intriguing young authors in Finland today. She writes sharp, serious books about a wide variety of people in a wide variety of stages of life. She does not shy away from using crystal-clear sentences to illuminate big themes like death, betrayal and forbidden love.
Pulkkinen achieved success with her second novel, Totta (published in English as True), which was nominated for the Finlandia Prize. A grandmother lying on her deathbed recounts the story of her family as questions of truth and memory are raised. Pulkkinen's debut novel, Raja (published in English as The Border), is about two women: Anja, a university professor, has promised to help her husband who is suffering from Alzheimer's disease to die. Meanwhile, Anja's 16-year-old niece Marie is struggling with love: she has become involved in a relationship with her teacher, with serious consequences. Two generations, and the eternal question: how far will we go for love?
Riikka Pulkkinen studied literature and theoretical philosophy at the University of Helsinki. She has had four novels published since 2006. Her books have been translated into more than 15 languages; Totta was also adapted for the theatre and received its premiere in Helsinki in 2011. She lives in Helsinki.
German translations:

Die Ruhelose, List 2014, Übersetzung: Elina Kritzokat.
Wahr, List 2012, Übersetzung: Elina Kritzokat
Photo: © Jouni Harala

Events