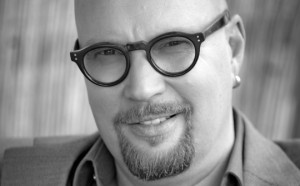 Juha Vuorinen (b. 1967 in Helsinki) writes with an absurd, shameless sense of humour that skewers bourgeois values – and regularly lands in Finland's bestseller lists. He also founded the Diktaattori publishing house, which publishes his own books. In addition to his writing and publishing activities, Vuorinen is also a columnist and a radio and TV presenter.
What started out as a blog developed into an entire series of books. The first instalment, entitled Juoppohullun päiväkirja ('The Diary of a Dipsomaniac'), will be out in German translation soon. Estonian, Swedish and Norwegian translations have already been published. The series tells about a character called Juha and his chaotic life, which is governed by alcohol, hangovers and sex. His greatest escapades are immortalised on paper in diary format.
German translations:
Göttlich versumpft. Aus dem Tagebuch eines Saufkopfs, Eichborn Verlag 2014 (erscheint am 15. August 2014), Übersetzung: Gabriele Schrey-Vasara.
Photo: © Toni Härkönen

Events