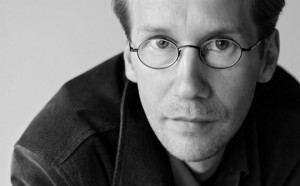 In the poems of Jouni Inkala (b. 1966 in Kemi), everyday occasions give rise to poetic trains of thought that lead to major existential questions. Inkala writes with melancholic aplomb and idiosyncratic, highly associative language. He creates poetic observations that are not restricted by cultural or temporal boundaries.
Jouni Inkala grew up as the son of a clergyman and studied fine art and literature in northern Finland and Helsinki. He is known primarily for his volumes of poetry, but has also written essays and columns for literary journals and newspapers. In 2001 he and the poet Juha Siro compiled Motmot, a poetry yearbook. Inkala has also translated poetry from German and French into Finnish. He considers himself a poet first and foremost, however, and even goes so far as to use the term 'calling' to describe his role.
His poems have been published in various literary journals and anthologies and have been translated into over 15 languages. In 1992 Inkala was awarded the J.H. Erkko Prize for his debut work Tässä sen reuna ('Here, Its Edge'). In 2005 he received the Einari Vuorela Poetry Prize for Kirjoittamaton ('Unwritten').
German translations:
Gedankenstrich eines Augenblicks, Wunderhorn (erscheint im Juni 2014), Übersetzung: Stefan Moster
Aus dem Hause und dem Geschlechte, Janus Press 1995, Übersetzung: Stefan Moster
Photo: © Veikko Somerpuro
Events