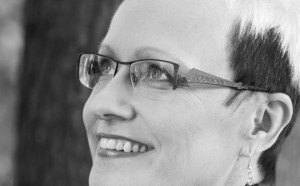 Johanna Sinisalo (b. 1958 in Sodankylä) is one of the most original writers working in Finland and also one of the most successful on the international scene. In her books, trolls are part of the Finnish animal kingdom, bees suffer a catastrophic extinction and ordinary chilli peppers are traded like illegal drugs. She categorises her own works as 'Finnish Weird', because they do not fit neatly into any single genre but instead contain elements of several text types.
In addition to her six novels, Johanna Sinisalo has also written a children's book, two collections of short stories and dozens of stories in anthologies. She also writes film and TV screenplays, and co-wrote the script for the sci-fi comedy Iron Sky. Johanna Sinisalo's works have been translated into nearly 20 languages. In 2000 she was awarded the Finlandia Prize for her debut novel Ennen päivänlaskua ei voi (published in English translation as Not Before Sundown) and has received numerous other literary awards and honours.
Her latest novel, Auringon ydin ('The Core of the Sun'), is set in a dystopian Finland where citizens – particularly women – are monitored very strictly. But an underground resistance movement begins to form, as fiery as chilli. This book is not only a parable about the surveillance society, but also a quirky novel about female roles in a male-dominated society.
German translations:
Finnisches Feuer, Tropen 2014, Übersetzung: Stefan Moster
Glasauge, Tropen 2007, Übersetzung: Elina Kritzokat
Troll: Eine Liebesgeschichte, Tropen 2005, Übersetzung: Angela Plöger
Photo: © Katja Lösönen

Events