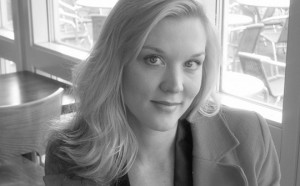 Johanna Holmström (b. 1981 in Sibbo/Sipoo) is a Finland-Swedish author and journalist who often deals with difficult issues in her writing. She portrays problematic youths, religious extremism and even self-harming in profound, empathetic terms.
In 2003 her first book, a collection of short stories entitled Inlåst och andra noveller ('Locked In and Other Stories'), was published. Since then, Johanna Holmström has published two more volumes of stories and two novels. Her best-known work is the 2013 novel Asfaltänglar ('Asphalt Angels'), which is also the first of her books to be published abroad in translation.
The young protagonists in Asfaltänglar are Leila and Samira, two sisters who live in Helsinki. Their mother is a Finland-Swedish convert to Islam who has become extremely devout, and their father is from North Africa. It is against this background that Holmström portrays the social and cultural conflicts of our era. Many reviewers were amazed by Holmström's detailed depictions in her book of the reality of life for immigrants and people with foreign backgrounds in the poorer suburbs of Helsinki.
Johanna Holmström has been honoured with several literary awards by organisations such as the Society of Swedish Literature in Finland in 2006 and the Svenska Dagbladet newspaper of Sweden in 2009.
German translations:
Asphaltengel, Ullstein Verlag 2014, Übersetzung: Wibke Kuhn
Photo: © Irmeli Jung
Events