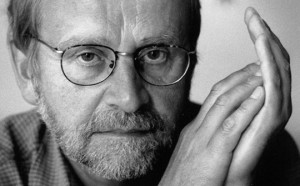 The books by Johan Bargum (b. 1943 in Helsingfors/Helsinki), a Finland-Swedish author and director, often deal with joy in sadness, life in death and imagination in reality. Bargum has published a total of 16 novels and short-story collections, including Den första snön ('The First Snow'), a children's book. He has also written film screenplays and plays for radio and theatre. One of his most successful dramas is Finns det tigrar i Kongo? ('Are There Any Tigers in the Congo?'), a 1986 play co-written with Bengt Ahlfors which addresses the issue of AIDS. It was an international success and was performed in more than 30 countries, making it the most widely translated play from Finland – a record it still holds.
His most recent book is Seglats i September ('Sailing in September'), published in 2011, which was widely praised by critics. In that work, Bargum portrays a romantic triangle that sets a sailing trip by two older men on a dramatic course.
Johan Bargum has been awarded a number of literary prizes and is a four-time recipient of the Finnish State Prize for Literature. In 1996 he was nominated for the prestigious Nordic Council Literature Prize. He lives in Espoo.
German translations:
Septembernovelle, Mare Verlag 2014, Übersetzung: Karl-Ludwig Wetzig
Der erste Schnee, Carl Hanser Verlag 2009, Übersetzung: Birgitta Kicherer
Gibt es Tiger am Kongo?, Gustav Kiepenheuer Bühnenvertrieb 1987, Übersetzung: Renate Beer
Photo: © Irmeli Jung

Events