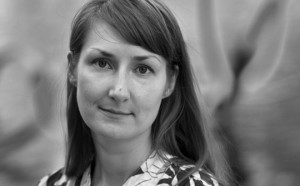 Emmi Itäranta (b. 1976 in Tampere) set her much-praised debut novel, Teemestarin kirja (published in English translation as Memory of Water), in a future where only electronic junk in the rubbish dumps tells about the past. When Noria, a tea master's apprentice, comes of age, she learns of her ancestors' closely guarded secret. This book is a lyrical dystopian vision of a world in which water has become a dangerous political weapon.
Itäranta wrote her novel in parallel Finnish and English versions as part of a final project for her postgraduate course. It won a science fiction and fantasy writing competition put on in 2011 by Teos, a Finnish publishing house and was awarded the Kalevi Jäntti Prize in 2012 and the Young Aleksis Prize in 2013. It will be published in more than 10 additional languages in the next few years. Emmi Itäranta's second book, with the working title of City of Woven Streets, will be published in Finland in 2015 by Teos, but rights have already been sold to five territories.
Emmi Itäranta studied drama at the University of Tampere and creative writing at the University of Kent. Before becoming a full-time author, she worked as a dramaturge for YLE, the Finnish national broadcasting company. She lives in Canterbury, Kent.
German translations:

Der Geschmack von Wasser, dtv-Hanser Junior 2014, Übersetzung: Anu Pyykönen-Stohner.
Photo: © Heini Lehväslaiho
Events