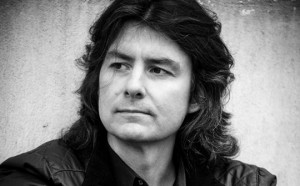 Antti Tuomainen (b. 1971 in Helsinki) writes crime novels that are not mere entertainment. Helsingin Sanomat, Finland's largest daily newspaper, has praised his successful combination of polished language and Finnish noir, as well as his vivid portrayal of the city of Helsinki and its residents.
Antti Tuomainen worked in Helsinki as an advertising copywriter before making his debut as a novelist in 2007 with Tappaja, toivoakseni ('A Killer, I Hope'). In 2011 he was awarded the Johtolanka prize for the best Finnish crime novel for his third novel, Parantaja (published in English translation as The Healer). That book went on to become a global success and has now been published in 26 countries.
In Parantaja, Tuomainen portrays a not-too-distant post-apocalyptic future in which a Helsinki author is searching for his wife, a journalist. She was on the trail of a serial killer before her sudden disappearance. Tuomainen works with tough, short scenes and writes in a direct, authentic style. In his novel Synkkä kuin sydämeni ('As Dark as My Heart'), published in Finland in 2013, the protagonist Aleksi Kivi is obsessed with the fate that befell his mother, who vanished 20 years previously: he has to find out what happened. Soon he winds up in a web of crime where he must deal with powerful millionaires and femmes fatales. Synkkä kuin sydämeni is also going to be adapted into a film.
German translations:
Todesschlaf, Ullstein/List (erscheint am 10. Oktober 2014), Übersetzung: Anke Michler.
Der Heiler, Ullstein/List 2012, Übersetzung: Regine Pirschel.
Photo: © Toni Härkönen

Events